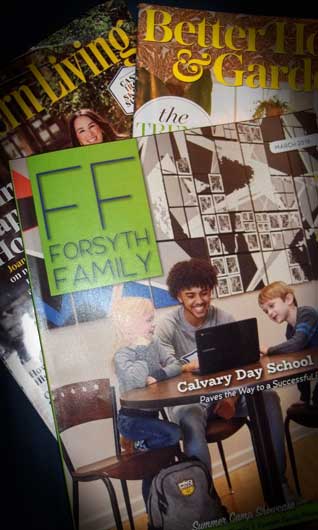 A feature article in Forsyth Family magazine is providing widespread publicity for the statewide charitable work of the Rye Foundation.
Titled "Rye Foundation Funds Special Camps for Special Children," the widely-read magazine focused its reporting on four camps which have received Rye funding:
— In Mount Airy, the Hospice-sponsored Brighter Days Children's Grief Camp helps boys and girls who have experienced the loss of a sibling or parent.
— In Asheboro, Camp Caraway provides a safe setting for children who have a parent in prison.
— In Clemmons, Merriwood Christian Camp offers scholarship aid for children of missionaries.
— In King, the YMCA Camp Hanes offers two sessions of "Camp Corral", aimed at children who have lost a parent on the battlefield.
The article explains that one of Rye's top priorities is to enhance and expand the impact of camps. Over the years, the foundation has helped to build chapels, construct cabins, provide curriculum materials, and fund scholarships.
In addition to the magazine coverage, three newspapers have recently reported on Rye charitable gifts. These include the Daily Advance in Elizabeth City, the Perquimans Weekly in Hertford and the Biblical Recorder in Cary.
Reprints from the publications are available at the foundation office.